Services of the resort
Khao Sok Royal Cliff Resort & Spa is now Montania Lifestyle Hotel. We offer different services for your convenience. Our reception will welcome you in the hotel in thai or english language and we await your arrival from 12:00 to 21:00 h. Please inform us if you arrive at a different time. For guests arriving by car, free parking is available at the resort.
We invite you to a virtual walk through our beautiful hotel.
---
Swimming Pool
---
Transfer Service
You do not know how to get to the hotel and from there to your next destination? We help with all transfers. We pick you up and take you there – wherever you want! You get a transfer without stopping and without detours.
Click here for a overview of the Transfers.
---
Restaurant 'Wild elephant terrace'
Our restaurant offers a wide range of Thai and European dishes. All ingredients come from local suppliers, so that the meals can be freshly prepared.
Opening times: 7:30 – 21:00
 
---
Massage
Thailand is synonymous with its famous massages. You should not miss this service under any circumstances.
Our experienced staff works in the best possible way for your wellbeing. Have you ever tried the following:
thai Massage

oil massage

foot massage

neck and shoulder massage
---
Laundry
The laundry service is quick and easy. Bring us in the morning your laundry and get it washed and ironed in the evening.
---
Bike Rent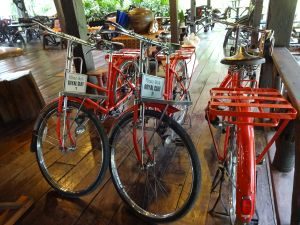 Explore the Khao Sok Village on your own. With our high quality bicycles for rent, you are always flexible.
In 15 minutes you reach a nearby viewpoint offering a breathtaking view over the valley of Khao Sok.